Fantasy football is an engaging way for millions of fans to connect with America's favorite sport. Filled with the joy, excitement and anxiety that come along with draft day – looking over your options and building a dream team from scratch can really take you places! The best fantasy football apps available make tracking your success (or lack thereof!) throughout the season even easier so don't miss out on all the fun yours for taking!
I know for you the strategizing began the moment last season's championship ended. Meanwhile, you have been deliberate about which key players you will keep for the next year and wonder what players will drop from your current draft spot.
Fantasy football is a game of monetary prizes, risk and rewards, strategy, and randomization. You have to be well informed; you need to have a backup with a proper plan and understand that winning a fantasy football league is not a walk in a park.
There are many best fantasy football sites and apps that can help you prepare and manage your draft. That includes looking at the results of the NFL's draft during the off-season, the performance of key players over the past several seasons, the shake-ups that occurred on various teams before the start of this season, news and information from NFL training camps and pre-season matchups, and fantasy projections for the upcoming season.
That includes looking at the results of the NFL's draft during the off-season, the performance of key players over the past several seasons, the shake-ups that occurred on various teams before the start of this season, news and information from NFL training camps and pre-season matchups, and fantasy projections for the upcoming season.
All that research is essential, but to use it online or in person during a live draft, you'll want to use your notes and cheat sheets with all your research and projections. Apps are always better than cheat sheets because they can include all your league setups and scoring rules, real-time selection of other league members, and their impact on your team. And offer suggestions based on available players and their stats.
Draft day is one of the most exciting days for any fantasy football enthusiast, and now drafting has become easier than ever with a wide range of apps offering league information at your fingertips. Whether using an iOS, Android or Windows device, these powerful tools help you strategize to hoist that coveted trophy by season's end. But before engaging in battle royale mode over draft picks it's important to understand your league rules as well as its scoring system – vital info made easily accessible through top-of-the line apps!
For fantasy football rookies, it's easy to be taken aback by the diverse rules and scoring guidelines – but don't worry! Most leagues stick with that traditional six-point touchdown format. Still, ensure you take a deeper dive into how interceptions or return yardage is rewarded as these little details can heavily influence your strategy around drafts. Arm yourself in advance so you can customize those strengths for maximum benefit when selecting players – savvy strategizing makes all the difference!
It's important to not overlook those players who may be overlooked by other team managers when building your fantasy football squad. Look for second-tier running backs with the knack of catching passes; they will provide you significant gains in both receiving and rushing yards, as well as touchdowns! To make sure success is at its peak during drafting time, here are top 6 fantasy football apps for drafting that can assist – perfect whether you're a seasoned veteran or just starting out on your championship run.
#1 Football Guys Draft Dominator
Footballguys' Draft Dominator App is a must-have for football fans looking to get serious about the experience. It's an incredibly valuable tool as it compiles all sorts of information from players, teams and leagues into one easily accessible place – perfect for those draft days when quick decisions need to be made! Not only that, but the app organizes this overwhelming data in ways beneficial during your fantasy drafts; if you're willing to invest a bit more money upfront, Footballguys has got you covered with everything that could possibly come up on game day.
Keep up with the latest game scores, player updates and commentary for a totally immersive experience. With Draft Dominator app you get projections, podcasts and newsletters tailored to meet your specific requirements – all within one easy-to-use platform. Whether it's used as an aid in understanding trends or preparing for fantasy leagues – this application is the perfect companion during draft season! It may take some time getting accustomed its features but there are plenty of helpful options available making sure you never miss out on any key information again.
#2 Yahoo Fantasy Sports.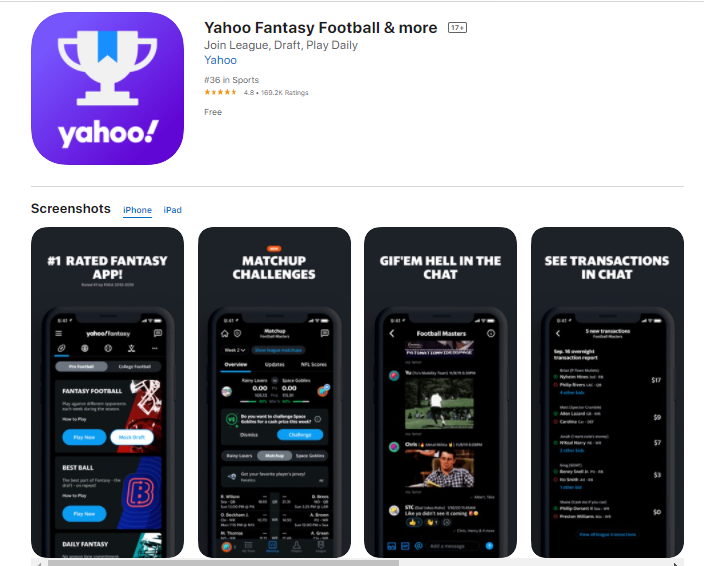 With more than 20 years of experience in the fantasy sports industry, Yahoo Sports Fantasy Football reigns as the longest-running and most popular option available online. Providing an intuitive interface to help both experienced and novice players join leagues quickly while easily tracking performance is at heart of what makes this app special. Look no further – get your fill of stats, standings and prices along with full coverage over football, baseball, basketball & hockey all on one platform!
#3 NFL Fantasy Football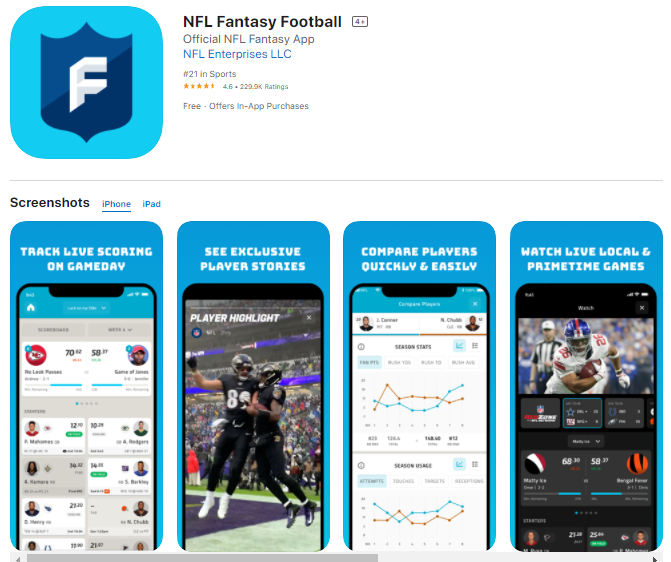 Looking for a reliable and up-to-date fantasy football app? The NFL Fantasy Football App is your solution. Whether you decide to join or create leagues with custom rules, manage multiple teams at once, track live scoring or check transactions – it's all made easy by this comprehensive application from the official source of industry news and data: the NFL. With significantly improved features such as player profiles, team sections bolstered through an effective comparison tool and other basics such as lineups & player updates – you'll be well equipped in tackling each season!
#4 ESPN Fantasy Sports.
ESPN has long been a trusted source for sports updates, and now they've taken their expertise to the world of fantasy football. With just a few clicks you can join free leagues right from your app – offering quick access to live auction or snake drafts – while keeping track of all game time injuries, trades and scoring details. Despite garnering its share of criticism in recent years, ESPN still sits comfortably as one of the most popular- if not THE most popular- platforms on which fans play fantasy games such as Football, Basketball Baseball & Hockey!
#5 RotoWire Draft Kit
RotoWire is the ultimate tool for any fantasy sports enthusiast. The draft kit provides a comprehensive suite of tools to help you put together successful drafts, enabling users to take advantage of performance projections and create ranked cheat sheets accordingly. Mock drafting against AI lets you get an overview of exactly how your team would fare in real-world scenarios; plus detailed analysis, news stories and predictions give added insight into improving your strategy. A slight downside could be that newer users may find it tricky finding their way around all features at first – yet once mastered will reap great benefit from this powerful app!
#6 CBS Sports Fantasy
CBS Sports Fantasy offers an array of customized features to enhance your fantasy drafting experience, such as auction values and rankings tailored specifically for you. This app reimagines the traditional sports fan by also catering to competitive players in Football, Basketball, Baseball and Hockey – all under one roof! Streamline navigation tools let you quickly access player news essential for bolstering any team while season projections ensure comprehensive coverage from draft day through the end of a championship run – no matter which platform or service is being used. With a free account on CBSSportsFantasy come exciting extras like Draft Companionship that make it easy to update drafts along with live scores so there's nothing standing between you and top-tier success!
Conclusion.
Despite the understandable hesitation of many fantasy football team managers to spend more when trading, there is an opportunity for those who are willing to take advantage. If another manager in your league wants one of your star players badly enough, he or she might be willing to offer up a large number of additional pieces that could leave you with a much better package overall – even if it means saying goodbye temporarily (or permanently) to one standout player. Remember though: careful research and sound decision-making must precede any proposed trade so as not get overzealous and end up on the losing side!