The NFL drafts are over and almost all the teams have made some serious changes in their lineups. The breathtaking action continued for 3 days and just like everyone's draft, there were some really out of the picks that were not expected by anyone. This was an opportunity for the teams to foster the visible shortcomings in their respective sides, and now when the NFL drafts are over, they can only be happy with their picks.
There is every possibility that your favorite Football star might not play for the same team he played the last season. This draft also ended up being an opportunity for plenty of former college football players to start their pro careers.
Key stats from the draft:
A total of 259 players were picked during the draft.
Ohio State and Alabama jointly bagged the maximum number of draftees, both of them picked 10 draftees each. Following them were Georgia university and Notre Dame with 9 draftees and Florida and Michigan with 8.
Trevor Lawrence became the top pick which was predicted by many experts, and he will play for Jacksonville.
Kenneth Gainweell, one of the top running backs, was grabbed by the Eagles.
10. Miami Dolphins:
Picks from the draft:
Jaylen Waddle, WR, Alabama
Jaelan Phillips, DE, Miami
Jevon Holland, S, Oregon
Liam Eichenberg, OT, Notre Dame
Hunter Long, TE, Boston College
Larne Coleman, OT, UMass
Gerrid Doaks, RB, Cincinnati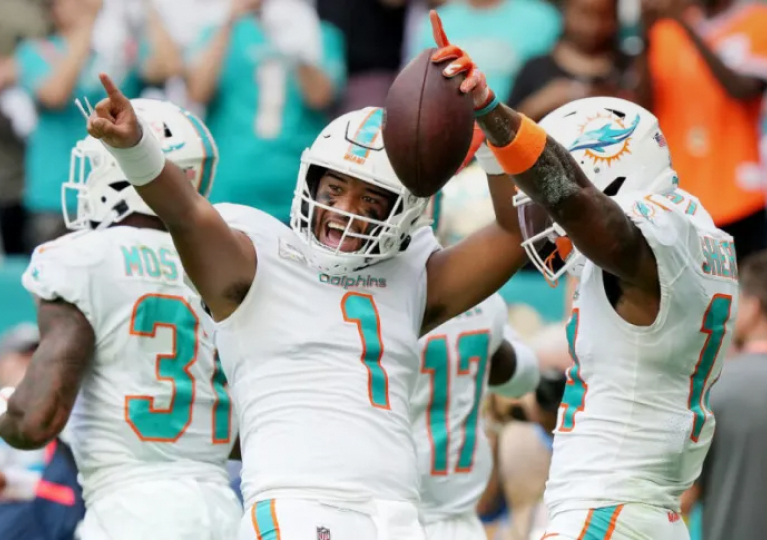 The last couple of seasons( barring the previous one) didn't go the way Miami would have wanted, keeping their past performance in consideration we can say that they had a fruitful draft. The constant efforts of Chris Grier, the General Manager were quite evident.
A large part of this was because of the generous sale they made in 2019. They even traded down to spot 12 and added some extra first-rounders in 2022 and 2023. This would certainly give them an upper hand in the following drafts.
To constitute a robust trio of receivers Miami picked Jaylen Waddle, the former Alabama player, and Will Fuller. Now they have the likes of Waddle, Fuller, and DeVante Parker as receivers.
The offensive line is always an area of concern for Miami Dolphins, and they didn't look to work on it this time too. Though they ended up 6th in scoring defense in 2020, we can expect them to give a tough fight. They can be a potential candidate for the AFC East title this year.
9. Seattle Seahawks:
Picks from the draft:
D'Wayne Eskridge, WR, Western Michigan
Tre Brown, CB, Oklahoma
Stone Forsythe, OT, Florida
The Seahawks were the center of debates for the rumors that they might trade their prized possession Quarterback Russel Wilson. Though nothing of the sort happened and we will see Russel in the Seahawks colors this season too.
The NFL draft was a lukewarm one for the Seahawks, they certainly made some changes to their squad from last year but didn't really manage to impress.
Among their additions was Gabe Jackson who will strengthen the shaky offensive line. While D'Wayne Eskridge will become another passing option to their quarterback Wilson. To dispense the defensive duties they asked for the services of Kerry Hyder to provide some sort of strength to their defense.
8. Los Angeles Rams:
Picks from the draft:
Tutu Atwell, WR, Louisville
Ernest Jones, LB, South Carolina
Bobby Brown III, DT, Texas A&M
Robert Rochell, CB, Central Arkansas
Jacob Harris, WR, UCF
Earnest Brown IV, DE, Northwestern
Jake Funk, RB, Maryland (PFA)
Ben Skowronek, WR, Notre Dame
Chris Garrett, LB, Concordia University St Paul
They were the center of talks at least in the first round of the NFL draft. They came out from the long spell of inactivity in the first round and added Matthew Stafford to their squad. This was only the first time after 2016 when Los Angeles selected a player in round 1. This also meant that Los Angeles won't be eligible to make a first-round pick at least until the 2024 NFL drafts.
This should reflect the level of trust they have invested in Matthew Stafford. They are hoping that he could be that icing to the cake that will bring success to their squad.
They already have Aaron Donal, voted as the best defensive player of the year, and Jalen Ramsey, the stalwart cornerback.
One thing that might hamper their dream run, is injuries, though injuries are bad for any team Los Angeles lacks the much-needed depth in their squad. They don't have the like-for-like replacements for their top players. They will be hoping that injury scary should stay miles away from them.
7. Tennessee Titans:
Picks from the draft:
Caleb Farley, CB, Virginia Tech
Dillon Radunz, OT, North Dakota State
Monty Rice, LB, Georgia
Elijah Molden, CB, Washington
Dez Fitzpatrick, WR, Louisville
Rashad Weaver, DE, Pittsburgh
Racey McMath, WR, LSU
Brady Breeze, S, Oregon
Titans have a history of gambling on injured players in the hope that they would recover fully and be the game-changer for them.
This gamble paid off beautifully in 2019 when they drafted Jeffery Simmons who is already among the most talented young defensive tackles.
This time around too they gambled on Caleb Farley, the Virginia Tech cornerback who is not fully fit at the moment. He is nursing a back injury at the moment and has undergone surgery for the same. Titans should hope that he would recover from the injury because he has the skills to be the number one cornerback. The signing of Dez Fitzpatrick meant a like-for-like replacement for Corey Davis.
The past two seasons fared impressively for the Titans as they managed to secure a playoff berth each time. They are right in the mix for the AFC South title this year too.
6. Baltimore Ravens:
Picks from the draft:
Rashod Bateman, WR, Minnesota
Jayson Oweh, DE, Penn State
Ben Cleveland, G, Georgia
Brandon Stephens, CB, SMU
Tylan Wallace, WR, Oklahoma State
Shaun Wade, CB, Ohio State
Daelim Hayes, DE, Notre Dame
Ben Mason, FB, Michigan
Baltimore Ravens can be regarded as the most consistent teams in terms of performance in the past decade or so. Obviously drafting Lamar Jackson in 2018 was the missing block in their puzzle, and since then they have never looked back.
Ravens are so good with filling the vacant spots in their teams, this was again put to test this year when Yannick Ngakoue and Matthew Judon, two of their rushers are no more with them. To make up for this loss they drafted a fairly young talent in Odafe Oweh. One might argue that the previous year's team was a stronger one when compared to this year's team at least on paper but their consistent track record and the presence of Lamar Jackson can be taken as an assurance that they are a top contender for the AFC North.
5.Green Bay Packers:
Picks from the draft:
Eric Stokes, CB, Georgia
Josh Myers, C, Ohio State
Amari Rodgers, WR, Clemson
Royce Newman, OG, Ole Miss
Terrell Slaton, DT, Florida
Shemar Jean-Charles, CB, Appalachian State
Cole Van Lanen, OT, Wisconsin
Isaiah McDuffie, LB, Boston College
Kylin Hill, RB, Mississippi State
There were some major absentees from the squad ahead of this NFL draft, Corey Linsley their Pro Bowl center, Christian Kirksey, and Jamaal Williams they're Running back all left. Though they managed to retain the services of their star quarterback Aaron James, and Kevin King the cornerback, still a lot of damage was already done. They drafted Eric Stokes, the cornerback from Georgia to undone some damage.
4. Cleveland Browns:
Picks from the draft:
Greg Newsome II, CB, Northwestern
Jeremiah Owusu-Koramoah, LB, Notre Dame
Anthony Schwartz, WR, Auburn
James Hudson, OT, Cincinnati
Tommy Togiai, DT, Ohio State
Tony Fields II, LB, West Virginia
Richard LeCounte, S, Georgia
Demetric Felton, WR, UCLA
The fact that Cleaveland made their first-ever playoff appearance after the mid-'90s, makes them a team to watch out for the AFC. They were offensively the best team in 2020 and things only got better this season with the comeback of Odell Beckham Jr, the talismanic wide receiver.
Though there were some visible problems in their defense that were exposed in the previous season and might hamper their consecutive playoff dreams significantly.
Though this time around they have drafted the likes of Jadeveon Clowney, the edge rusher, tackle Malik Jackson, Anthony Walker at linebacker, and safety, John Johnson. They also drafted linebacker Jeremiah Owusu-Koramoah, which is called one of the biggest steals of the NFL draft. The management has tried their level best to make their defense robust with all these new signings, let's see how the Ploy turns out for them. Now the Browns are looking solid in all three levels with some major shuffling in their defense.
3. Buffalo Bills:
Picks from the Draft:
Gregory Rousseau, DE, Miami
Carlos Basham Jr., DE, Wake Forest
Spencer Brown, OT, Northern Iowa
Tommy Doyle, OT, Miami
Marquez Stevenson, WR, Houston
Damar Hamlin, S, Pittsburgh
Rachad Wildgoose, CB, Wisconsin
Jack Anderson, OG, Texas Tech
The Bills had the most passive of the offseasons. They didn't need any major shuffling in their team. Buffalo Bills are coming off a mind-boggling 13 win season where they were almost on a rampage cruising comfortably over every side they came their way. They even played an AFC Championship game leap year.
After this huge success, they didn't look to make any major changes, the most they did was to keep their talented players from leaving them. They regained the services of Matt Milano, Levi Wallace, Mario Addison, and Daryl Williams who were among the biggest contributors of the previous season.
Edge rusher was one area of concern for them and they looked to address the same by signing Miami's Gregory Rousseau. Gregory amassed 15.5 sacks and 19.5 tackles in the 2019 season, however, he was willfully absent from the 2020 season. They also added Carlos Basham Jr. They are looking even stronger and will certainly look to repeat their last year's performance.
2. Kansas City Chiefs:
Picks from the draft:
Nick Bolton, LB, Missouri
Creed Humphrey, C, Oklahoma
Joshua Kaindoh, DE, Florida State
Noah Gray, TE, Duke
Cornell Powell, WR, Clemson
Trey Smith, G, Tennessee
Chiefs are two-time AFC defending champions but last year there were some serious concerns about their offensive line. They were low on budgets ahead of this NFL draft which led them to release tackles, Eric Fisher and Mitchell Schwartz.
They asked free agent Joe Thuney for his services for the next 5 years and offered him $80 million. Austin Blythe is asked to hold the position of the center and Mike Remmers will replace Mitchell at the right tackle.
They asked Baltimore for Orlando Brown, but they paid a very heavy price for him too, in the form of Patrick Mahomes. The Chiefs are having one of the deepest and clinical offensive lines just because of the fact that the Buccaneers won last year, they are placed at the top, otherwise, there is nothing that separates the two teams. But the Chiefs would be hopeful that they don't run into similar problems they did in the last season.
1. Tampa Bay Buccaneers:
Picks from the draft:
Joe Tryon, LB, Washington
Kyle Trask, QB, Florida
Robert Hainsey, G, Notre Dame
Jaelon Darden, WR, North Texas
K.J. Britt, LB, Auburn
Chris Wilcox, CB, BYU
Grant Stuard, LB, Houston
Finally, we are down to our number 1 contender. Tamba bay didn't look to make any major changes and why would they?
After all, they are the reigning champions. They gave special emphasis on ensuring that none of their previous year's superstars left them. Their focus was much more on keeping the core intact than additions.
There is a long list of their Super Bowl-winning players who are back precisely 22 of their players are intact. Their Linebacker Lavonte David, Shaquil Barrett the edge rusher, DT Ndamukong Suh, both the wide receivers Chris Godwin and Antonio Brown, the Running back Leonard Founette, and tight end Rob Gronkowski will be back. That's almost the entire squad, isn't it?
To give the finishing touches to their already robust squad they added Giovani Bernard in free agency. Tampa Bay did a wonderful job in the pre-season in retaining their core, they have a settled team well ahead of the season and this will provide a solid boost to their hopes of regaining the title.