NFL Players who can cover some quick yards, are always an invaluable asset to their teams, owing to the damage they can cause to the opposition in the final few yards.
Running backs is a highly debatable position in the NFL, and all talent evaluators desire to have explosive runners in their arsenal. NFL teams comprise the best of these explosive runners. It is the runners as wide receivers, running backs, and quarterbacks that can change the game's entirety.
When we talk about explosive runners, an instant reminder of the running back position, and why both, most of the players dominating this countdown in the past played as running backs. But, this time it's a twist in the tale, our number one position holder is a quarterback, and he has dominated others by quite some margin.
Accessing criteria:
We haven't just picked any NFL player of our choice, and ranked them based on our preferences, no that won't be rational. Instead, we have our ranking criteria that say a player will be considered in the countdown only if he satisfies the following criteria:
He has executed a minimum of 100 carries in 2019.
He has at least 20 carries to his name that too of 10-plus yards.
Let's take a look at the top-10 explosive runners who are perfect and have demonstrated robust speed throughout their extensive careers:
Lamar Jackson
QuarterBack (Baltimore Raven)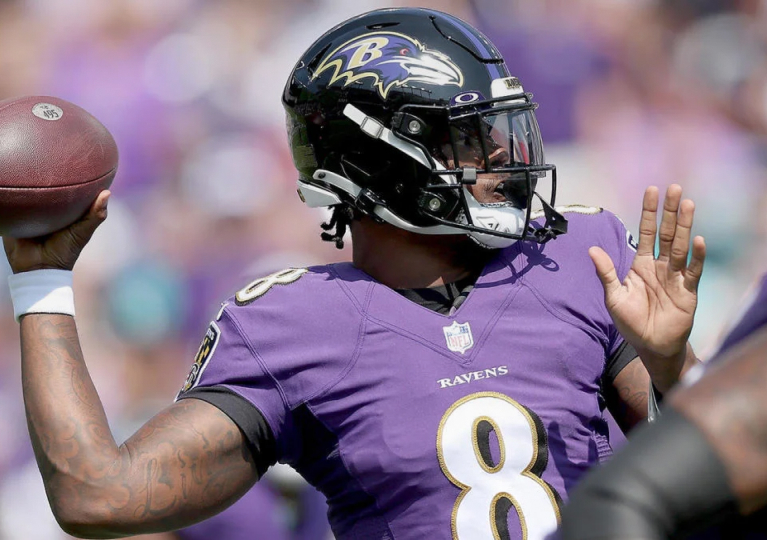 Jackson is at the prime of his career at this point. Further, the star QB became the first-ever QB in the history of the NFL with numerous 1,000-yard in multiple seasons. Back in 2019, Jackson reportedly carried balls around 176 times. In addition to this, his average speed was around 15 mph. He is delivering performance with an unbelievable level of consistency, it's not like one great season followed by a lukewarm one. His graph has only soared upward and yet to experience a dip.
Jackson is the only quarterback on the list as he deserves the top spot for being unstoppable in 2019 and acquired the MVP award. Experts suggest that if Jackson pulls off similar feats in years to come, he will become one of the most-valued NFL players of recent times.
Dalvin Cook
Running Back (Minnesota Vikings)
Cook is by far one of the most notable RB in the NFL as of now. He's a single-most reason why the Vikings have flourished in terms of offensive playing. In 2019, Cook scored the second-highest position among all running backs in the present-day NFL. In the said season, Dalvin had acquired 100 minimum rushes.
Cook is regarded as a ruthless monster who is running the football. With his skills and raw prowess Cook seamlessly replaced Adrian Peterson. Given that at the beginning of the big break, Cook was dealing with injuries. However, his career seemed to have changed after recovering in 2019 with 14 games. So far, Cook ran for around 1,135 yards with an average of approximately 4.5 yards/carry.
Raheem Mostert
Running Back (San Francisco 49ers)
Mostert seemingly had the most momentous day during the postseason. NFL fans still wonder about the effectiveness of Mostert during the regular season if Raheem would have had a massive workload. Among four rushes in 2019, he hit 20+ MPH, further putting him among the leagues of elite ball-carrying players. By the looks of it, only seven NFL players so far have reached this benchmark. Mostert achieved this milestone in relatively fewer carries than any other player in America.
He was a star postseason, and his journey is recorded and documented as many teams cut him loose before he came in to play for the San Francisco 49ers.
Kenyan Drake
Running Back (Arizona Cardinals)
After being transferred from Dolphins to Arizona Cardinals, Kenyan Drake has doubled his rush rate with 15+ MPH. His statistics rushed from 15.9% to 26.8%. As a playmaker, Drake fully uses his sheer explosiveness and makes every bit of difference during each game. It seems the player has quite a promising future as long as he sticks around with the Arizona Cardinals.
When he was with Dolphins, things were good, but now the player explores a cosmos of skills and opportunities with the Cardinals. Currently, Drake is entirely an utter nightmare for oppositions. Drake is often compared with Chris Carson. Moreover, Drake has the upper hand as he is a mobile QB for defenses. His ability when it comes to planting his foot directly into the ground is commendable.
Aaron Jones
Running Back (Green Bay Packers)
Aaron Jones seemingly shined after a successful series of tackles, further placing him tied for ten touchdowns. Jones has an average of around 4.1 yards/rush tackles in the red zone, which is most common in the NFL with a bare minimum of about 15 runs. During the term of 53 runs, he almost hit over 15 MPH, becoming the fourth NFL player to do so. Among most of Jones' feats, his incredible explosiveness with a 56-yard touchdown will go down in history if he doesn't beat his record.
Jones became the most valuable NFL player for the Green Bay Packers back in 2019. He is on the verge of a 13-3 record while Aaron Rodgers waited for someone to catch a football. The team also had a similar offensive strategy for 2020. Currently, Jones is the focal point of everyone as an offensive player, and he is dominated in the hall of fame after Rogers has passed.
Phillip Lindsay
Running Back (Denver Broncos)
In the 2019 season of the NFL, it seemed almost all opponents were focused on Lindsay! But it didn't matter; the Running Back did still manage to rack up around 48 runs with a speed of 15+ MPH. The stats will act as a reminder to everyone, so to why Lindsay is still a menacing and explosive NFL player. There is a highly likely chance that Melvin Gordon and Philip Lindsay duo are undefeated.
Lindsay used to be an inexperienced NFL quarterback initially, but as a Running Back, things are looking. Lindsay is expected to deliver explosive performance seasons to come.
Marlon Mack
Running Back (Indianapolis Colts)
Indianapolis Colts are incomplete without the utter explosiveness of Marlon Mack as he is the best ball carrier the team has ever uncovered. Mack broke around 15 miles/hour on 51 runs (regarded as fourth among all the running backs in the 2019 season. Marlon Mack also ripped off 28 runs from 10-plus yards. In 2020, Marlon Mack was about to be paired with Jonathan Taylor to become one of the most explosive duos of 2020.
Colt's fans are well-aware of Marlon Mack's prowess and how he's able to take pressure even in the toughest of the situations such as passing attacks. Colts arguably have the best 1-2 punch backfield in the whole of the NFL.
Todd Gurley
Running Back (Atlanta Falcons)
Honestly, many people disagreed with the events where Gurley fell out of Atlanta Falcon's favor. It is even true that Gurley doesn't meet up the criteria for landing on the list. Nevertheless, even during the seasons when he was not at his best, he was still one of the best performers. The fastest touchdown by Gurley took place in the 2019 season, where he managed to reach at the same time exceed 15 MPH or more on 20% of his total 223 attempts. Moreover, Gurly's 21 runs of 10+ yards showcase that the RB could still gain noteworthy yards, given that he is yet to hit a home run, even once.
If the former Georgia star opts for rehab or something of that sort, then in the forthcoming season, he can outperform his competitors. Given that Gurley has been inflicted with several injuries, displaying a magnificent speed in the game is commendable.
Christian McCaffrey
Running Back (Carolina Panthers)
Panthers have some legitimate weapons with them, such as Christian McCaffrey, who hit an average speed of 15-plus mph with 18.1%. In many matches, McCaffrey has provided testament to his explosiveness as well as effectiveness. Furthermore, he displayed his capability for gaining 10+ yards in around 31 rushes during the 2019 season. The RB is a stud, and the whole of America knows it.
It seems unfair that Christian McCaffrey is in the No. 9 positions; however, this is only just the numbers. The best thing about numbers is that it keeps on changing. The Carlina Panthers and Christian McCaffrey are made for themselves.
Chris Carson
Running Back (Seattle Seahawks)
Chris Carson has displayed an average speed of 15+ MPH with an average of 4.3 yards. Nevertheless, Carson's tactics and playing style make him one of the most explosive NFL players in the 2019-2020 season. In less than one season, Carson was able to gain around 1,230 yards. The recovered Carson will return with much more explosion and will have a successful feat in forthcoming seasons.
Carson is one of the few players on the list who can seamlessly blow through defenders and run past them. In the previous season, he has managed to provide around seven touchdowns.