Speed is an indispensable element of the game of American Football, you can never overlook or disregard its viability in the game. And if you are indeed overlooking it, then it's going to cost you heavily in the long run.
Football players are made to focus on speed right from the onset of their careers. All the college football conferences always look to produce the best of the runners.
We have seen in the past that runners are usually from the running back position because they have to run for long pacey yards in the game. But this article will turn the tables upside down, our number 1 runner is a quarterback. He has taken the number one spot by quite some margin. But before that have a look at the criterion which is out upon to decide the positions in the countdown.
The criteria of selection in this list:
Running above 15 miles cannot be the sole defining criteria, can it be?
Explosiveness cannot be defined on any one parameter. A combination of various factors must be taken into consideration along with volumes. As we cannot simply select a player who has picked up above 15 mph speed briefly but doesn't have any significant yardage to his name.
The eligibility criteria for this list consider the players who have-
Completed at least 100 carries in 2019.
Out of those completed carries a minimum if 20 carries should be of 10-plus yards.
How many percent of runs were above15-plus mph?
Let the countdown begin!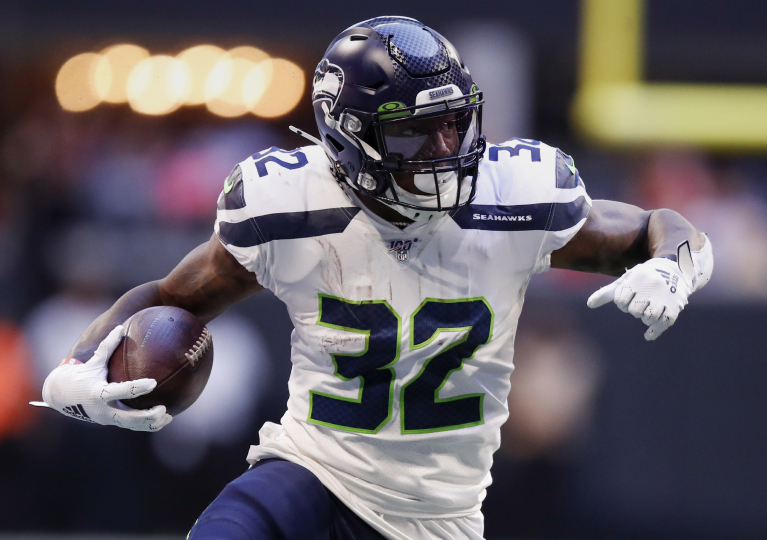 10. Chris Carson
Team: Seattle Seahawks
Position: Running Back
Chris was instrumental for the Seahawks in their successful run in the 2019 season. He picked up over 1,230 yards without even playing for the whole season. Talking about his achievements, Chris rushed for 32, 10-plus yards, he had 11.5, 10-plus run pct, and 18, 15-plus mph pct to his name. Stats suggest that his explosiveness lasts briefly after the first sprint. His 2019 season was a curtailed one, but we expect him to return the field with enhanced speed.
9. Christian McCaffrey
Team: Carolina Panthers
Position: Running Back
Christian has the record for notching 15-plus mph on 96 touches attempts in the 2019 season. This is the most by any player in the NFL. That's not all, 52 of that 15-plus mph came on rushing attempts. Seeing his sturdy build, one can easily get confused if he can run so fast..In 31 rushing attempts in 2019, he gained runs of 10-plus yards: he picked up 10.8,10-plus run pct and 18.1, 15-plus mph pct.
8. Todd Gurley
Team: Atlanta Falcons
Position: Running Back
We would have to agree that the 2019 season was not the nest of the seasons for the standards of Gurley. It was a surprise having him on this list especially this year, but his numbers speak in his favor. Though only 1 of his top 10 fastest touches in the previous 2 seasons came in 2019. Still, he managed to amass 21 runs of 10-plus yards. He also had a 9.4 10-plus run pct: 9.4, and 18.4 15-plus mph pct. It's highly unlikely that we see him in the Falcons colors in 2020, but still, he has some pacy football left in him.
7. Marlon Mack
Team: Indianapolis Colts
Position: Running Back
Marlon was a key man for the Colts in 2019, in his absence the team struggled to come up with another reliable ball-carrier. Marlon crossed the 15 mph mark on 51 runs which is the fourth-most among all running backs. Mack had 28 runs of 10-plus yards, 11.3 10-plus run pct, 20.6 15-plus mph pct to sum up his curtailed season.
We expect Mack to bounce back strongly given the immense potential he carries and will look to add to his tally.
6. Phillip Lindsay
Team: Denver Broncos
Position: Running Back
Lindsay had a phenomenal run in the 2018 season, though he wasn't able to replicate his heroics of the first season in 2019, still, he put up quite a decent show. Given that the Denver team made him play with 3 different quarterbacks. He still picked up over 1011 yards which are in no way a small achievement. He notched up 48 runs of 15-plus mph in 2019. Moreover, Lindsay had 22 runs of 10-plus yards, 9.8 10-plus run pct, and 21.4 15-plus mph pct making his 2019 season a decent one for him. He is expected to return with even more explosiveness, and make a mark for himself.
5. Aaron Jones
Team: Green Bay Packers
Position: Running Back
Jones sits jointly at the top of the list for most inside runs with 10 touchdowns on inside runs. He averaged 4.1 yards per rush when runs inside the tackles in the red zone are considered, which is again the most in the NFL when those with a minimum of 15 such runs are considered.
He did manage to hit 15-plus mph on 53 occasions which is the fourth-most in the NFL.
Aaron is known for his tremendous 56-yard touchdown which dished out an easy win for the Green Bay Packers against Minnesota in Week 16 last season. This was the game that brought recognition to Aaron as a Green Bay Packer man.
4. Kenyan Drake
Team: Arizona Cardinals
Position: Running Back
The mid-season transfer of Drake to the Cardinals proved to be a high paying ploy for them. With Miami, his potential wasn't fully exploited to the benefit of the team. There he made only 47 carries, which climbed to a whopping 123 times in Arizona, moreover on more than a fourth of those attempts, he clicked 15-plus mph, which is some serious statistics to describe his prowess. Drake had 20 runs of 10-plus yards with a 10-plus run patch of 16, and 15-plus mph pct of 26.8. Drake is not only a fast runner with the ball in the hand but a vigilant playmaker who always looks to create scoring opportunities.

3. Raheem Mostert
Team: San Francisco 49ers
Position: Running Back
Only 7 players in history have hit the 20-plus mph landmark and Raheem is one of the rare ones. In fact in the postseason where he was asked to play the hit 20-plus mph on 4 occasions which is simply outstanding. To reach this landmark he took the fewest ball carries. He wasn't given the fullest of opportunity to play in the regular season, but imagine if he was given a longer run, how staggering his numbers could have been. Nevertheless, he totaled 23 runs of 10-plus yards, with a 16.8 10-plus run pct, and 15-plus mph pct of 28.5. Raheem had an average speed of 13.75 mph while making touches in 2019, it will be quite interesting if he could replicate the same form in 2020.
2. Dalvin Cook
Team: Minnesota Vikings
Position: Running Back
Cook was the go-to man for the Vikings in the offense, and he was utilized to the very last ounce of his potential. At the line of scrimmage, Cook had an average speed of 10.93 mph on runs in 2019. This is the second-highest mark achieved by a running back in the NFL who at least have 100 rushes to their name. Cook notched up the 10-plus yards mark on 25 occasions while making runs. Having a 10-plus run pct of 10, and 15-plus mph pct of 29.2 Cook deserved the number 2 spot in this countdown. He will be raging to better his own records once again when he will take the field in 2020.
1. Lamar Jackson
Team: Baltimore Ravens
Position: Quarterback
The only player in the countdown who isn't a Running Back. This lad took the season by a storm leaving everybody talking about just one name, Lamar Jackson. He has outperformed the other players on this list by quite a hefty margin. His stats are unbelievable, he notched up 47 runs of 10-plus yards which is almost double to the closest competitor. In half of the occasions where he carried the ball( 176 times) he hit the 15 mph mark, his 15-plus mph efficiency was 52.8 the highest of them all.
He had 93 runs of 15-plus mph which is 20 more than the next man in the list. Nobody was as explosive as Lamar, and he would want to continue his triumphal run.