The entire College Football scenario in Texas isn't as easy to understand as it might appear. With all the12 in-state programs presenting their best performances year after year. It is very difficult to find a consensus on a ranking. You cannot simply say that the Texas longhorns are the unbeaten flag bearers of the college football program in Texas. The past few years are full of ups and downs for the Texas longhorns too. You can estimate the complexity of this ranking with the fact that even after performing so well Texas longhorns aren't at the top spot of this ranking.
We experience a great deal of shuffle in the ranking each season. So don't lose hope if your favorite team has missed out on the top rankings this time around.
Note: the ranking is arrived only after considering the overall performance of the team and the state conference.
Baylor Bears: only 3 seasons back they were in the middle of this ranking and now are the current leaders. So it doesn't take long for fortunes to turn the tables. As of now, they are the unbeatables. They along with the Texas Longhorns are allegedly a win away from the new year Super Bowl. The Baylor Bears had a record of 11-1 in the previous season which is almost impossible to beat.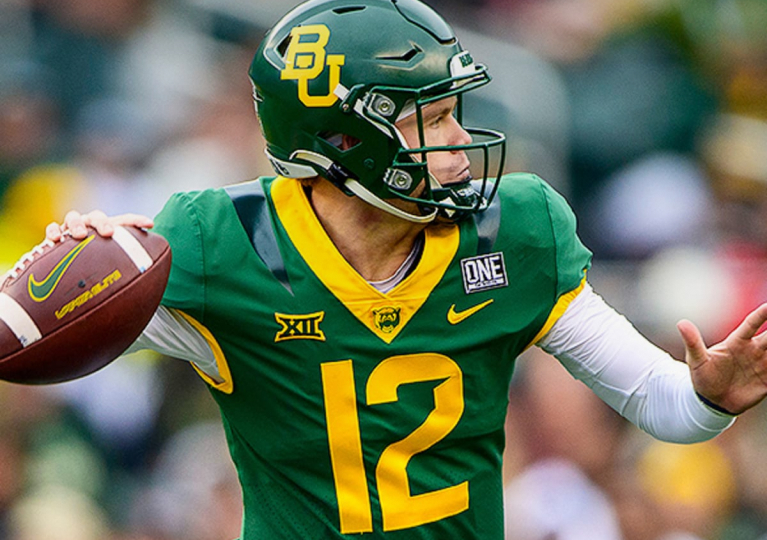 SMU Mustangs: their season isn't too bad too. They have also enjoyed a fairly great season. The SMU Mustangs football program is the one for Southern Methodist University. They have the likes of Sonny Dykes as their head coach and are performing exceptionally well at the moment. They have a record of 10-2 to brag in the previous season.
Texas A&M Aggies: though they are at the third spot still consistency is lacking in their performance. They are performing well in patches. Jimbo Fisher has given his best as the head coach and their quarterback Haynes King can be seen as the spine of the team. They have a 7-5 win record in the last season.
Texas Longhorns: A team with a huge fan following and a highly decorated past. They have been at the top for doing long that we aren't accustomed to seeing them in the middle of the ranking chart. The Darrell K Royal-Texas Memorial Stadium is studded to the capacity of 100,119 when the home team is in action. They boast a Bowl record of 30–24–2 (.554) and have 32 Conference titles to their name. In the last session, they managed to pick 8 wins against 5 losses. So the previous season can be seen as a mixed bag of outcomes.
TCU Horned Frogs: the TCU Horned Frogs represent the Texas Christian University at the Big 12, PRC (rifle), and the CCSA conference. Talking about their history, they have grabbed 18 conference titles and 17 Consensus All-Americans titles. They managed to pick up 5 wins in the previous season as compared to 7 losses. The bright aspect for the team is that their star player Max Duggan is bringing his A-game to the ground, and is winning them matches.
Texas Tech Red Raiders: they don't have a very glorious past and we don't find a very large incline of decline in their performance very often. They have a Bowl record of 14–23–1 (.382) and have 11 Conference titles and 12 consensus All-Americans titles to their name. They have won 5 games in the previous season at the expense of loss in the other 7. However, some of the matches were really close ones and in their fourth match, they lost by one score.
Houston Cougars: popularly known as Coogs, the team representing the University of Houston has quite intelligently capitalized their chances against the lower-ranked teams to secure 4 wins for them. They are managed by athletic director Chris Pezman and are seen performing well in the recent past. Though they have 8 losses in the previous season beneath their belt their performance over the long-run has improved.
Rice owls: they have pretty average or poor previous seasons and their last season was having the same fate until they went on to out a 3 games winning streak. Yes! They managed to win 3 games in a row. Currently, they are playing under the coaching of Mike Bloomgren, and David Bailiff. They have a Bowl record of 7–5 (.583) and 8 conference titles to their name. Last season they bagged 3 wins and 8 losses.
North Texas Mean Green: under the coaching of Head coach Seth Littrell the North Texas Mean Green team managed to pick up 4 wins for themselves. They have picked up a total of 24 Conference titles for Conference USA. They ended their last year campaign with 8 losses and 4 wins. This has been a nightmare of a season for them, they are standing in the bottom of the table for the first time since 2016. They displayed a dismal performance this season.
UTSA Roadrunners: a fairly new team to the list, but they have improved greatly in the recent past. Currently, they are trained by Jeff Traylor. They played their first season in 2011. In the last season barring their last match, they put up a decent show in all other matches. They ended up with 4 wins in the season at the expense of 8 losses.
Texas State Bobcats: they contest in the NCAA Sun Belt Conference Football West Division. They have amassed 14 Conference titles to date. They had a pretty ordinary last season which resulted in the number 11position for them in this list. They managed to win only 3 matches and went on to lose 10 of them.
UTEP Miners: they would like to forget their previous season as soon as they can. They performed poorly in the 2019 season and won just a solitary game. UTEP Miners represent the University of Texas at El Paso. Though they have a Bowl record of 5–9 (.357), and 2 conference titles to their name, that is history. Their current form is dismal. They ended their season with a 1-11 record which is almost like a bad nightmare for them. Their only victory in the season was also the only victory in the last 20 games for them.