In today's highly digitalized world, everyone has a smartphone. Whether it is parents or kids, each individual has a specific choice of smartphone. But without apps, a phone is nothing except for a piece of box. However, most of the parents consider the apps in their smartphones are entirely useless.
These are the points of those parents who are entirely focused on the sports and gameplay of their child. They want their child to become a professional-level football player for America.
But let us clear it out to you that there are some of the most helpful mobile apps that help you to remove obstacles in your child's training. And you can find these mobile apps relevant to your requirement since these apps feature with the multiplicity of helpful functions. So let's take a look at what these apps are.
Top 5 mobile apps to help parents who have an athletic child
1. Athlete Connect App
As a responsible parent, you must look after each requirement of your child if he wants to become a professional football player. Therefore, more than him, it is your duty that your child performs their best.
Although, you might be wondering what exactly you can do to help your child. Then we must say that only a person can help your child to become a master of football gameplay, and it is his coach.
Sometimes finding a perfect football coaching can be a dilemma. But through athlete connect app, we have made it easy for you because this app helps you to connect with local athletes and coaches that encourage athletes as well. For instance, this app allows athletes to communicate with one another that supports and motivates athletes.
This app is specially designed to help an athlete find a personal coach in their local area at Texas, Houston San Antonio, who will specialize in their coaching. You can also consider their experience and how do they provide their training to your child. You can find top high school football coaches in America through this app.
Also, if you want to book any coach, then you also get an option in this app to book them right from your mobile device.
The app is easy to use, since you also get offerings, acquire new athletes, and manage training sessions options. So no doubt that it is an excellent app. If finding the best football coach appears to be difficult for you, then download this coaching app right now.
2. Norton Family Parental Control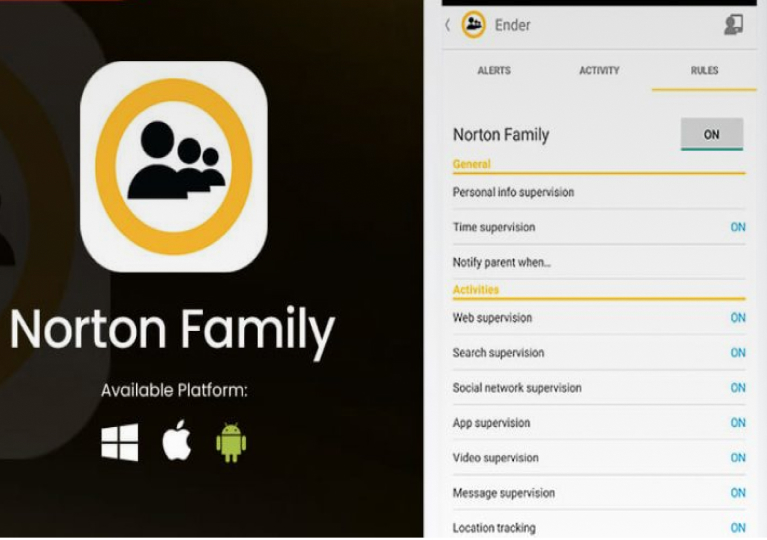 The app- Norton Family Parental Control is the best apps for parents that every parent should have in their smartphone. Since today, children are more connected with their phones. However, using a phone isn't a bad thing, but using the phone with the wrong intention can spoil him.
Especially if you have some dreams with your child and you want him to become a professional-level football player, then it is your primary duty to pay attention to his doing 'how often he uses his phone or what he does in his phone.' Because if anything is there that can distract your child from practice, it is only his mobile.
Therefore, this app does best cell phone monitoring for parents that helps you to monitor your kid's phone and also provides you various services. Just sign up first on both your child and your phone and accept the terms and conditions.
After that, you'll get to see some options displaying specifically alerts, activity (social media, time on the smartphone, apps, video, location, and more), and rules.
Also, you can enable or disable various rules for phone monitoring. Besides, if you think that it is the training time for your child, and you want him to focus on his training, then it is one of the best apps to monitor kid's phones that also allow you to lock the device of your child if a need arises to do so.
3. Google Family Link
It is not a good thing if you keep an eye on your child's smartphone all the time. After all, sometimes, he also needs his own space. He also needs some time for the better recovery of his mind in which he could chill out and could fresh his mind.
Therefore, for this purpose, the Google Family Link app is a complete mobile application that every parent should have on their phone. You'll never be finding any of the apps, like Google Family Link, since this app allows you to set the screen limits on your child's phone.
If you are aware of the Football Coaching time of your child, and meanwhile you want that during that time, your child should only focus on his training. Then this parental control app is the ideal app and should be on your phone. Besides, in the same, you can also set day and night restrictions.
This app is much identical to various other apps since it also allows you to monitor your child's phone. It is the best app for parental control and is also easy to use.
4. Bark: Parental Control Monitoring App
It is hard to believe, but this digital app has also saved lives. It is the best app that alerts parents. Bark also provides voluntary actions on how to deal with it and saved 33 lives; these were those children who were committing suicide intentions, and this app alerts their parents. (However, the app requires a monthly fee; Amazon, Android, IOS, but Free trial available is also available)
If you want to stay updated with the doings of your child, then the Bark mobile app should be the best choice for you. Because this app allows you to stay updated about your child, since the Bark monitors emails, text messages, YouTube, and monitors 24 diverse social networks for potential safety concerns.
So parents can feel stress-free about their child that also saves parents time. You can expect your child has a complete focus upon his game, and thanks to algorithms. Since it can alert you proactively towards issues such as cyber-bullying, sexting, and depression that frequently examine words displaying on the phone of your child.
This app is based on the users' choice. It gives real-time and appropriate notifications, which this app gathers from various online sources.
5. Find My Kid
Do you have a child? and every time you care about him? Whenever you are out of home, you worry about your child. However, it would be wrong if concerning your child's safety; you never allow them to cross the house walls.
Especially if your child daily goes for football training and while coming home, he likes to wander around the city with his friends. Then it is a must that you will never want your child to be lost in the crowded town; this app is definitely for you.
Anyone who has gone through the sheer panic of losing a child can understand the app's importance. Since this app allows you to find a child at any given moment if you ever lose them.
Find My Kids makes it easy to track your little ones by using Google Maps in real-time, which also makes sure that your child is safe. The app is free, and you can download it on both Android and iPhone.
So overall, this app offers peace of mind to you and always helps you to access the location of your family members who are extremely important in your life.
Conclusion
In the end, if you are also a football lover and want your child that he enhances his football strategy. And without any disturbance and difficulty, he focuses on his game, then all the above-stated apps are surely the best thing that every parent should have on their phone.
Football has not been like the sport of the old days; in fact, a big competition has emerged in the game. Therefore it has become essential for parents to move forward, and all the above apps will lead you in the direction of your child's training directly and indirectly.