Choosing the right coach for youth football training is like choosing the right pair of shoes; it should be comfortable, adaptable, and give you space to grow
As the private sector for youth strength training is on its rise. There are so many more options out there than ever before. Whether you are a parent whose child is merely looking for opportunities to do something after school or you need someone to assist your child for its upcoming goals, there is one thing that is common for all, a requirement for the right football coach.
Being a parent, you have to consider what kind of coach fits best for your child. The coach-athlete relationship has always been unique, and it is vital that the coach can meet their emotional, cognitive, and physical development needs.
High school football players between the age of 10 to 18 participating in youth football training are at vulnerable development age. They are incredibly susceptible to external sources of knowledge and feedback and their overall environment has a significant effect on their upcoming growth.
Regardless of whether your child has a wholesome of football aspirations, having a coach with a positive mentality makes all the difference and helps support in reaching athletic potential in the respective game.
And that's where the right coach's requirement comes into existence, under no circumstance, you should consider a coach who is abusive in your initial coaching journey, your coach needs to be educated regarding football and certified from their respective government sports body.
My goal from this blog is to help you make better decisions and maybe find your son and daughter the best fits; being from the industry, I would share my opinions to use it to empower your decision.
Here are some rules and dos and don'ts while you look for a coach for youth football training.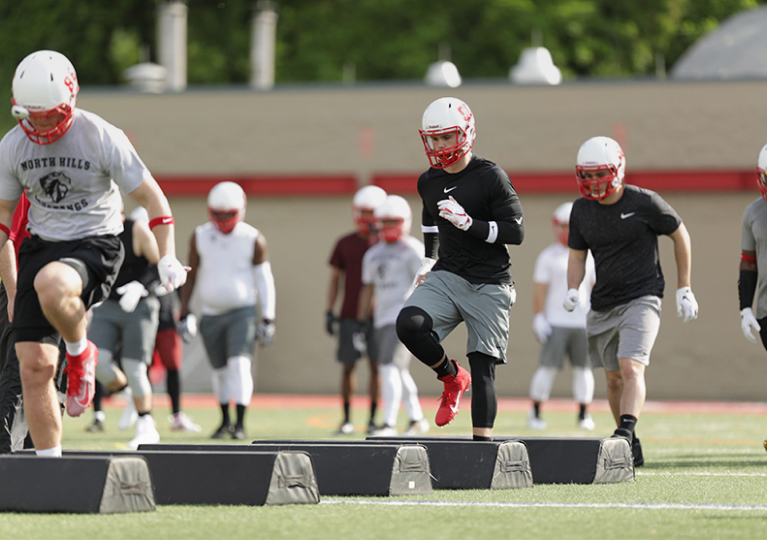 Can the coach be a potential role model for your child?
For some, this may not be something they would be looking for, but in my opinion, a coach for youth strength training of your child should be capable enough to be able to inspire players. If a coach's lifestyle isn't congruent to influence anyone, then it is a deal-breaker.
This may sound judgmental to you, but this is your child for whom I am talking about, and you cannot compromise on the basics of any player as that is going to shape your child in the coming years.
The only thing I want to represent in this is that they represent the values you want your child to get exposed to every time they head to practice drills. And that's where all the answers would be solved.
Ask for referrals.
To have the potential role model for you child, one of the best ways to find a coach is through referral; the best part about a referral is you already would know the coaching style of the coach since you have been referred from someone you have known and someone who was getting trained themselves.
This is the easiest way of finding the top professional through your network.
Have a budget in mind.
A private football coach for youth strength training is expensive, and it's a luxury and blessing to be able to afford these extracurricular training to prosper your kid. While searching for the best fits for your child, your budget should also be something you should be taking care of.
Coaching is a business. Many centers are more into selling products than into providing value, don't get sold to something like this; purchase something depending on your budget and requirements.
What is the legacy of the coach?
The coach should have a purpose behind his direction, and they should know why they should be remembered for. Whereas knowing why he is committing his time and energy to change students says a lot about its character and purpose. I believe someone's desired legacy should be an unwavering directive behind anyone's chosen path.
So, the question that comes finally is how they want to be remembered and do they coach for your child or himself. There are tons of coaches trying to make money by giving the lessons they have never followed. And giving your child into such hands for initial youth training is something that you should always avoid thinking about.
Do you feel safe to fail?
This is one of the essential roles of a private football coach that how your coach reacts to your failures and how he sets your mental state for it.
The only way every athlete can perform the best version of themselves is by feeling safe to try out different things. Therefore, the safer you feel around your coach, the better you perform in your sport and thrive.
A better coach has a responsibility to bring the change in the player's mindset, which makes him feel better about themselves every time he comes for drills and practice.
If your child feels fear while practicing every day, that's a red flag, you should avoid such coaches.
Don't make a decision based on social media following.
When you are looking for a coach, you will try researching that person online.
And his social media followings should never be the reason behind getting trained from a specific coach.
It's an excellent way to research anyone through the internet that lets you see their training videos and give you an idea about his perspective. Still, you have to understand that social media following; popularity cannot equate to competence.
Social media is indeed an excellent research tool. Still, the following can be bought, reviews can be edited, and reality can be skewed, always ensure the things I have mentioned above and meet the person face to face to get a better idea.
Also, never value who they train, with how they teach.
You might think that since the trainer works with top-class athletes, they will be an excellent option for their kid too, but instead of focusing on these things, try to look for what your child exactly needs and choose according to that requirement.
Following social media and looking at these top athletes may not provide you with the things you are looking into.
Inquire with previous batch students.
This is where getting a trainer through referral makes the work better; it is always recommended to ask the existing students about their experience of getting trained under a similar coach.
This will give you a better perspective through the student's point of view and help you decide more accurately, depending on what you are looking for.
It's essential to know the coach's background you will involve for your child for upcoming journeys.
You can also ask a question to your coach-like.
Tell me about your background.
When and how did you start in this industry?
What are your expertise and qualifications?
With these questions, you will judge and decide, depending on the connection you feel after talking.
Don't rush into the decision.
Lastly, you have to understand, especially at a young age, when most of the habit will be curated into the player, rushing for something that is not up to your expectation is not worth waiting for more time.
Don't rush for the decision you don't want to achieve; having a better coach is crucial at the high school level.
It's better to wait longer than getting a coach and then changing again.
That would bring more work to your child and the new coach you would be getting trained with since everyone has its style. There are thousands of coaches who you can find who wants your child to perform their best, not just in football but also in life, and that's how you have to select the coach.
Conclusion.
Finally, to conclude with everything I have mentioned in this blog, having a good coach at the earlier stages of a sports career has been the most crucial thing for most successful players we see in football. We have seen them mentioned that number of times, but since the industry is getting more into business in the past couple of years, it's difficult to understand the real sporting world.
A happy athlete is always someone who would love to improve, so don't lose sight that early coaching in life doesn't matter and doesn't have to be professional.
Also, we have to understand that getting into the race of getting your child into sports is always something you should be avoiding as a parent. Coaching is essential for aspiring players, but for many, they may take time to figure out things, and there is nothing wrong with it.
Your passion for sports, included with proper coaching and guidance, can make you the best version of yourself.
Recommended Read: