We are in touching distance from the sporting action of the 2020 season. With the World facing much bigger problems at the moment, the teams are forced to stay out of the field for this pre-season.
College Football fans must be raging from inside to have some football action.
Football in America is much more than a sporting event, people almost worship the game and their star players. The coming season is going to decide the College football landscape in the country. Some see teams as a new platform to showcase their talent which they could not in the previous seasons. While there are players who will look to make a strong statement for themselves for their future.
Without wasting much of time let's get straight to the list of the matches in the coming season to watch out for. Stakes are head high for these matches, it's not just about winning or losing.
College Football Matches to Watch this Season:
10. Texas vs LSU Tiger Football Match
Date: Sept- 12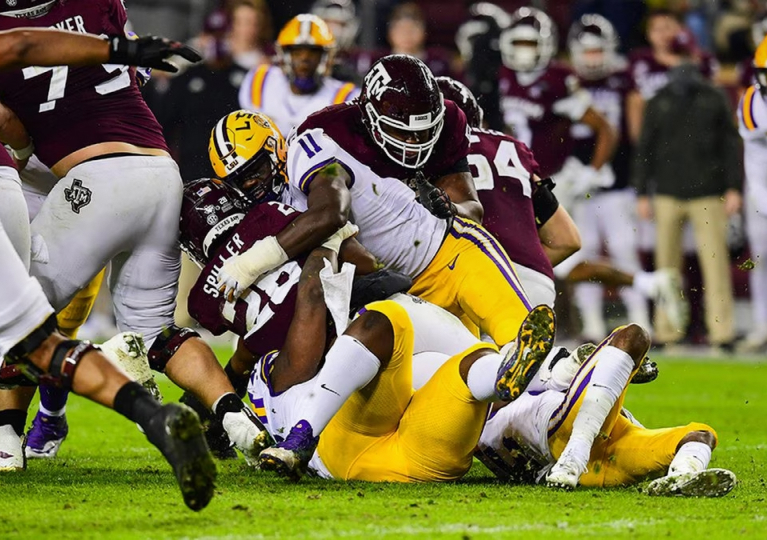 While we are witnessing Texas experiencing a rough patch in their previous seasons, they must be looking for an impressive performance in the coming season. While the fates of LSU aren't much different, they too had a major shuffle in the coaching staff.
With the termination of the spring practice season due to the global pandemic Corona, they couldn't recoup the team ahead of the season. It will be an uphill task for the tigers to get past the Longhorns when they will lock horns in the second week.
9. Wisconsin Badgers at Michigan
Date: Sept- 26
This game has every chance to turn into a potential eliminator for both sides. The winning side will proceed into October with a lot of confidence, but it isn't as easy as it looks. It is very hard to pick the possible winner for this matchup, both the teams have their respective rough patches. While Wisconsin is coming into the season at the expense of Jonathan Taylor, their former running back, Michigan will be without their quarterback Shea Patterson. So expect a closely contested match.
8. Florida Gators vs. Georgia Bulldogs Football Match
Date: Oct- 31
This will be quite a match at Jacksonville, this game in all likelihood will determine the winner of the SEC East champion. Georgia has an upper hand on their opponents and will look to repeat the history, while Florida will look to switch the cards of fortunes this time around. In the previous 3 occasions when we had an SEC title game, the Bulldogs always came victorious despite having a CFP berth at stake.
Dan Mullen and the team will look to the first-placed team at the last conference to give them a strong boost.
7. Ohio State Buckeyes at Penn State
Date: Oct- 24
Ohio is slightly a better side than Penn state who are 11-2 on the overall. But we should not judge aside what it has done in the past, rather we should consider what it can potentially achieve.
Returning to the four-team postseason will be on the priority list of Ohio and for that, they might need to get past Lions.
quarterback Sean Clifford should be the main man for the Lions and it will majorly depend on his performance, how far the team will make it.
6. USC Trojans at Oregon against Oregon Ducks
Date: Nov- 7
USC is second placed in the south conference, they have an overall record of 8-5 which they'll certainly look to improve. On the other hand, the Ducks sit on top of the North conference, with a pretty good record of 12-2.
Clay Helton, the coaching brain behind USC, has made some changes to his side. He has brought sophomore kid Kedon Slovis for the all-important quarterback position.
The Ducks are far more heavily armed than their opponents at both the offensive and defensive sides, but you cannot rule out the Trojans so easily. Especially when this game is seen as a virtual CFP elimination matchup.
5. Texas Longhorns vs. Oklahoma Football Match
Date: Oct- 10
This matchup in Dallas will certainly be a live wire when these two sides will take the field. With 12-2 on the overall, Oklahoma is the clear favorites to win this one, they show complete domination when it comes to Big 12. They have 5 consecutive title wins to their name in the Big12.
Texas has got what it takes to beat the mighty Sooners but, they never really showed their best game in the recent past. If Texas comes out with a winner tag in this match we can expect them to have a great season, otherwise be prepared to witness another shuffle in the coaching staff.
4. Ohio State Buckeyes vs Oregon Ducks at Oregon
Date: Sept- 12
This will only be the second week so the dynamics of the league will still be under development. Ducks have the bragging rights of the best offensive unit in the country that can win them a game on any given day. While Ohio has every right to rely on its defense to stop the offensive unit of any team. So it will be a battle of the Ohio defense and the offense of Oregon. There's not much to separate the two sides so it's almost impossible to predict the winner especially when the season hasn't even picked off.
3. Alabama vs LSU Tiger Football Match at LSU
Date: Nov- 7
These two sides are arch-rivals in the past decade, their matchup means a lot for the College football in the country. We have witnessed a trend that each match between these two sides has an impact on the SEC West and national title. Both teams aren't having the most promising past season, so they will look to take revenge but also consolidate their position.
2. Clemson Tigers vs Notre Dame Football Match
Date: Nov- 8
Clemson is 14-1 on the overall are a tough side to get past. If you too have a sharp memory, you might as well see this match as the rematch for the Cotton Bowl national semifinal that we witnessed 2 years ago. Notre Dame isn't performing badly either, their quarterback Ian Book will be their go-to man when they will be up against the Tigers. They will be hoping for a strong cohesive performance from the team as it isn't easy to get past the roaring tigers. Clemson too has their hopes heavily put on quarterback Trevor Lawrence, who will look to make the most of the resources. This can be seen as the biggest encounter of South Bend.
1. Georgia Bulldogs vs Alabama Crimson Tide
Date: Sept- 19
This will be one hell of an encounter when these two arch-rivals will lock horns. Alabama Crimson Tide will expect something of the similar sorts which they experienced in the national title matchup 3 seasons ago.
Georgia Bulldogs will be a little disappointed with the fixtures as they have to play 3 matches in 13 days, so that's a quite hectic schedule for them especially when they have a showdown against Alabama. Expect no less than fireworks on the Colege football field when these two sides will face each other. And don't even try to predict the winner, because it isn't possible to say anything as of now.
Recommended Read:
10 Best College Football Players of 2019