At some point in time, we all must agree that quarterback is the most pivotal football position in the game. A quarterback must touch the ball in almost every offensive play. Quarterback is the player who has to drive the flow of play, he can even change the strategy on the run if he feels like the predefined strategy isn't doing wonders for the team during the game. At the professional level, you will rarely witness a quarterback making driving runs with the ball. He always passes the ball and runs the flow of the attack.
A quarterback is placed just behind the center who receives the ball. For playing at the quarterback football position, a player has to inculcate several qualities like leadership, intelligence. Moreover, he should be a strong and accurate passer of the ball.
Good running ability is always an added advantage.
Today we will learn about the Top 10 quarterbacks from high school football's Class of 2021 who proved their mettle and emerged as the best in class.
In this glorious list, we have players from 7 different states, while each of the other 5 states has solitary representation in this list, California, and Texas are the only ones having multiple players featuring in the list.
Nine of the 10 players who feature in this list have already entered into a contract with some of the other universities, and the only player who hasn't yet joined a university is our number 1 player. Without any further delay let's start with the
"Top 10 quarterbacks from high school football Class of 2021"
10. Drake Maye: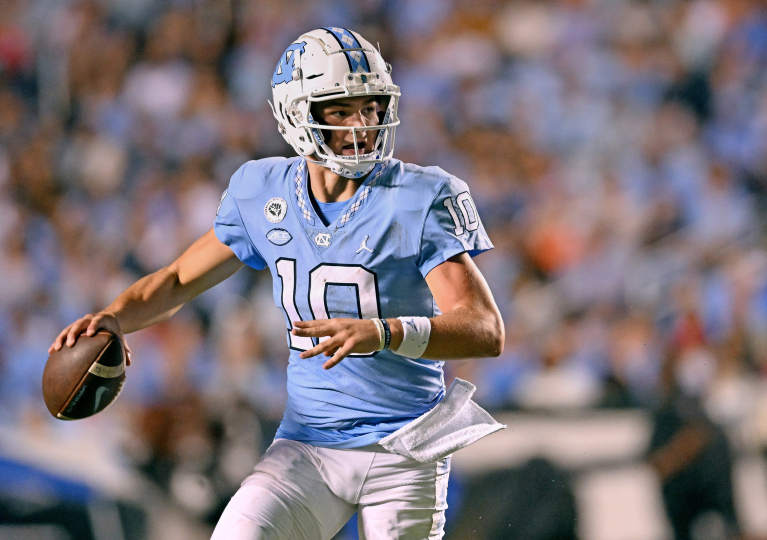 Based out of Myers Park (Charlotte, NC)
Bio: Drake is known for his high accuracy at the football field, he has a strong build and is still growing. Drake won Alpha Dog honors banking on his standout performance at the NFA 7-on-7 East Regional. He once led his team to a 10-0 record victory. Talking about the 2021 stats he threw for about 3,500 yards, he completed 50 touchdowns while playing in his junior season. His pass completion percentage was 72%. He rushed for about 200 yards.
9. Jake Garcia
Based out of La Habra (CA)
Bio: His speed changing abilities are quite good combined with his passing skills. Playing as a quarterback for the Texas Longhorns he threw for over 2,300 yards. He completed 25 touchdowns in the meantime. His passing accuracy was over 70 percent out of his total passes made in 2019. He has very bright chances to make it to the NFL draft in the coming years.
8. J.J. McCarthy
Based out of Nazareth Academy (LaGrange Park, IL)
Bio: Not a suitable frame for a quarterback as of now but he starts with his placement abilities and has clean mechanics while passing the ball. He is a smart kid and his tactics work during the game. With the Roadrunners he has made consecutive 7A state title game appearances. That's not all he has a 26-2 record in the last two years. His last season stats include throwing for about 3,500 yards, which was accompanied by 37 touchdowns.
7. Preston Stone
Based out of Parish Episcopal (Dallas)
Bio: Preston is 6-foot-2 but has a lean frame, he will have to add some mass to his frame. He was a prime force when Dallas Parish Episcopal made it to the D-I state championship in Texas Association of Private and Parochial Schools. He threw for about 3,300 yards as a quarterback and successfully made 37 touchdowns. At the same time, he rushed for 800-plus yards. He can even play as a receiver which adds to the versatility of his game. He will make it to the NFL draft.
6. Tyler Buchner
Based out of Bishop's (La Jolla, CA)
Bio: During his middle school days he was a nationally known Lacrosse. He is a dynamic player and can perform any role with perfection. His escape-ability is the most sought after skill of his, which makes him eligible to play as a running back. He has recovered from his ACL injury. His stats are very impressive with 4,474 yards of throwing where most others are averaging below 4000 and 53 touchdowns. He has rushed for 1,610 and managed 28 more scores in the meantime.
5. Sam Huard
Based out of Kennedy Catholic (Burien, Wash)
Bio: Sam is a two-time all-state leader in passing yards. It was only possible on account of the brilliant gameplay by Sam that Kennedy Catholic ended theirs at 11-. They also earned the No. 1 birth into the Class 4A state playoffs for the first time in many years. Sam has recorded 11,741 yards of passing while completing 132 touchdowns as well. Sam is awarded as the Freshman of the Year 2017. For the past two years, Sam has been nominated to the Sophomore and Junior All-American teams. He will for sure make it to the NFL draft.
4. Brock Vandagriff
Based out of Prince Avenue Christian (Athens, GA)
Bio: Brock is 6-2.5 feet high and weighs about199. So he is a physically mature quarterback which is a rare sight in this list. His ability to deliver passes while being flat-footed and off-platform is a big plus. He was sidelined from his junior campaign because he had to nurse a leg injury, he played only 8 games and pulled off throwing for 2,400 yards while making 31 touchdowns. He even rushed for 300 yards and had six more scores during his junior season. The stats for his sophomore season are even more staggering, he threw for over 4,000 yards and managed 51 touchdowns.
3. Kyle McCord
Based out of St. Joseph's Prep (Philadelphia)
Bio: Being 6-3 high and weighing 204 pounds he has a perfect frame for a quarterback. Kyle has a quick arm release and can throw 15-yard out on the line. His throwing is quite accurate and the pass percentage is impressive too. He could play for only 7 weeks in his junior campaign on account of an injury. In his interrupted junior season he threw for about 1,600 yards and completed 25 touchdowns. Kyle has managed to take his place in the Junior and Sophomore All-American squads for 2 consecutive years as a quarterback. He is considered one of the best throwers in the country.
2. Demetrius Davis Jr
Based out of North Shore (Houston)
Bio: Davis has phenomenal close-quarters agility because of his relatively short yet bulky frame. He still has to improve on his top-end speed. Was one of the biggest contributors to the back-to-back 6A Division 1 state title wins of Mustangs. Talking about his records, he was selected as the Sophomore Player of the Year for 2018. He also made it to the first-team selection of the Junior All-American squad for the previous season. He has the potential to become a multi-year starter at the high-major level.
1. Caleb Williams
Based out of Gonzaga (Washington, D.C.)
Bio: Caleb has proven his finesse time and time again especially in crunch situations that aren't pre-decided. Banking on his excellent performance, Gonzaga bagged an 8-3 record at the Washington Catholic Athletic Conference. It is more of a formality to state that Caleb was selected in the past 2 seasons as the first-team selection with the sophomore and junior All-American squads. In 2018 it was his final game performance including 6 touchdowns and a ridiculous 53-yard touchdown pass which brought DMV power its first WCAC championship in about 16 years.
Recommended Read:
The Top 10 Running Backs from Class of 2021
Best Quarterback Workout Guide for Football Players
How Can a Quarterback be Selected by College Football Recruiters?