You cannot even think of competing in Football Championship Subdivision (FCS), Division II or Division III, let alone the Football Bowl Subdivision (FBS), without years of physical strength training. So, how can you possibly leave mental toughness training to chance?
Yes, you need speed, physical strength, and endurance to overcome your opponents in football. But it is equally important to have your head on right.
What did the Tennessee Volunteers need the most to win against the Florida Gators, a team they had not defeated in over a decade since 2004?
What would it take to snap an 11-game losing streak?
Among other things such as the right football coaching, practice, and a jubilant crowd of supporters, it's the mindset and focus that led the Vols to victory.
In Absence of Mental Toughness, Even a Promising Squad Can Go On a Losing Streak
It's frustrating for the football coach, performance trainers, and the players when a promising squad that has the talent to win, remains consistent in losing one game after the other. When the players look forward to a defeat even before kickoff, have stopped believing in their capabilities and each other and just focus on achieving a respectable outcome (and not victory), the losing streak may go into the second or third season.
Even when such a team is ahead in a game, all it takes is – one missed tackle, one shanked field goal or one dropped pass – to make them think like, 'here we are at it again… we always manage to blow it!
This is why professional football trainers lay great emphasis on developing mental toughness in players because they know it's an absolutely necessary ingredient for achieving peak performance in football. If you're currently receiving training from a personal football coach, it's likely you're being trained to strengthen your mental muscles.
Signs of the Lack of Mental Toughness:
You tend to perform better in practice than in games that actually matter.
You easily feel intimidated or psyched out in the face of a ferocious opponent.
Instead of the strategy, you tend to focus more on how the game might end.
You frequently buy into the idea that you will always lose against a particular team.
You end up sabotaging your play due to excessive fear and anxiety.
You fail to concentrate or be in the moment when you must.
You play stiff and slow just because you are nervous.
You have come to believe that you are the weak link on the line.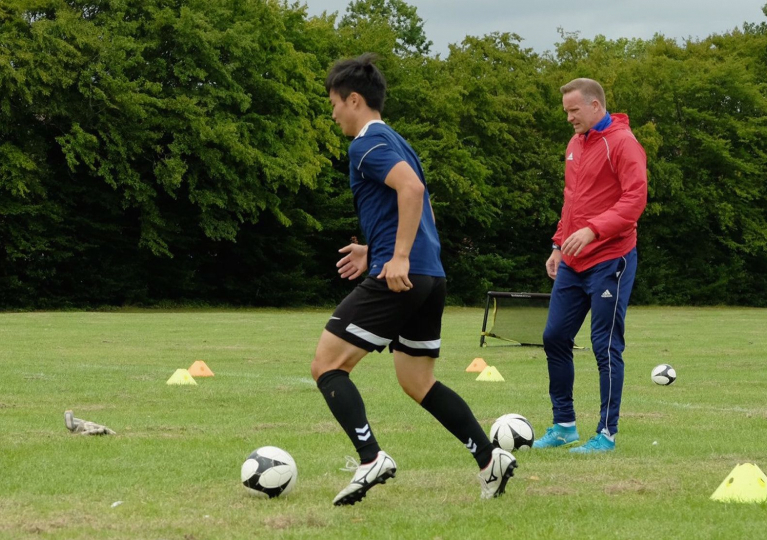 A private football trainer can help you overcome these self-created limitations through systematic training, mental exercises, and coaching.
Final Words-
A large number of football players fail to perform up to their potential year after year simply because they focus too much on the 'UC's or uncontrollable factors that are completely out of your control when you play football. Some of the most common UC's include
Mistakes that you have made in the past
Your opponent's size, skill, and strength
The Field and playing conditions
Your team members and how well they play football
The football coaching staff'
How much playing time you get
The outcome of a game
If you're at an early stage of your football career, a private football trainer can help you learn how to concentrate on what's really important and leave aside the factors that you cannot control. With dedication, practice, and guidance, you can learn how to think like a winner and bounce back from bad calls and nasty mistakes.