Fans love to cheer their favourite players on their goals, great kicks, high defence, and lots of other things that players do on the ground. Football is a game of calculation and details. As a player, you need to get your calculation right before implementing your strategies on the ground. Perhaps, that is why people love the unique and creatively executed goals. But have you ever imagined who was the mastermind behind the entirely ended match and behind the great strategies?
The football coaches are one of the unsung heroes and most significant forces behind the exceptional games that you watch on the ground. They have the perfect plans and strategies to make things easy for the players. Players without a coach will be like a class without a teacher. So, it would help if you had your coach beside you to do the things with precision.
Often parents ask "how to improve my son's football skills" It doesn't matter whether your child is quite a good player or a beginner; they need a coach to make his/her game and skills great.
A professional football coach for children will teach your son how to react, act according to the game and situations, and, more importantly, how to control the nerves at the pressure situations. On the other hand, if you are looking forward to a perfect coach to make your child's game outstanding then you can install the Athlete Connect App. It is one of the best apps that delivers high-end coaches according to your needs. Therefore, your search for football coaching for kids near me ends with this great app.
So, here, we are going to discuss how a professional football coach can improve your son's skills-
1) He'll make the child believe in her/himself
Self believe, and motivation is one of the greatest things that can make you an ordinary to an extraordinary football player. A good and professional football coach will inspire your child and will give him/her the much-needed boost that will help them to enhance their self-esteem and skills. He/she will set high standards and motivate the players to achieve them.
2) Humiliation and embarrassment are not professional tools for them
Some of the coaches embarrass and humiliate the players to make their games enjoyable and to make them try-hard. But the fact is that these techniques of teaching are one of the worst ones. As a coach, you need to be friendly with your players and allow them to play their games without having any pressure of fault and embarrassment.
A professional coach develops mental toughness, strength, and enriches the performance of the players with friendly behaviour and with a healthy bond.
3) Rules and regulations
Any game or sport has specific rules and regulations that need to be followed by the players. A professional coach is a trove of knowledge. They will make your child understand about the game and about football rules and regulation.
As a player, if you want to get a taste of success, then you need to be aware of every section of the game and especially about the rules. The coach that is hired from a recognized football academy near you will guide your child and teach them about the rules that would help them to make the game secure.
4) Ability to accept the criticism
It doesn't matter how good or bad you are if you don't have the courage or strength to recognize your criticism, then you will always be considered as unprofessional. Football is a game of calculation. Sometimes you execute your plan flawlessly on the ground, and few times you fail too, but the way you accept the criticism that will make you a step ahead from others.
Accepting criticism is an art because it will give your child new dimensions of acquiring new skills and knowledge from others. So, a professional coach always tries to develop the ability to accept criticism in the players.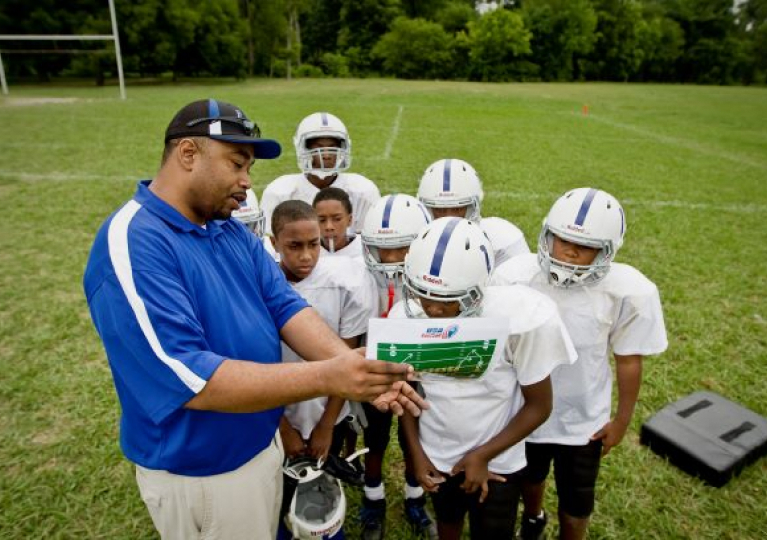 5) Update you with new information
With the advancement of time, the game of football is also marching towards new techniques and skills. And as a player, you need to be aware of the new things. Small information, a new technique, change in rules and regulations, or anything else which is directly or indirectly related to the game can benefit a player a lot.
A professional coach will make your child aware of these things and will help him/her to make the game secure. And apart from new and trendy information, they will guide or help them to add some new things in their game with excellent communication and understanding of the game.
6) Make skills and technique strong
As you have read earlier that football is a game of true calculation and meticulous details. It would be best if you made your plan strong, must have the ability to execute them well and, last but not least, the ability to adapt to the situation when things are not in your favour.
A professional coach has a healthy and right amount of game knowledge, knowledge about game and situation, techniques, and experience of making the right plans. And as a player, your child can learn these things from the coach with eagerness to make their game and technique even stronger.
7) A versatile player
As a fan, you love to cheer your favourite player or team, and the same inclination of a specific or desirous role goes with a player in the game too. Every player has to play in a particular position or wishes to play a particular purpose for the team. But for the most significant career and game skills, you need to develop yourself as a versatile player who can play or do any role when you ask to do.
For this, your football coach can help your child to have the versatility in his/her game and, at the same time, the required skills to play at any position and do any role, which is essential for the team.
7) Camps, conferences, and clinics
If you want to enhance your kid's football skills and game knowledge, then you need to send him/her to pay a visit to game conferences, camps, and clinics that are organized by the legendary players and coaches of the game. From there, he/she can take a bundle of game experience and understanding of the game.
A professional coach knows these small things that can give your kid a sound knowledge of the game.
8) Fitness training
Only a fit and a flexible player has the ability to survive the mighty sport of football. This game demands a high level of flexibility and concentration. That is why we have mentioned that only a fitness freak can survive or rule this game.
A professional coach knows the concept of fitness and training that can make a player champion of the game. He/she will guide your child and will set some high standard of training that will help your child to achieve the highest level of fitness.
Therefore, if your son wants to be a professional football player, then it is important that you give importance to his fitness as well.
9) Passion
Passion is something that motivates your child to do things. For a football player, a passion for the game is a must to be the ultimate champion of the sport. A coach plays a vital role in carrying forward your child's love and passion from one level to another level. They try hard to make things easy for your child by setting up the hard goals, and mental and physical training to achieve the target.
10) Imagination
A passionate player imagines excellent achievements and success for the future; we know things are not marked on the stone. However, still, images will give you the power and motivation to chase your dreams.
A football coach let their players speculate something great, and then they try to turn the things into reality.
11) Perseverance
Every player suffers from the phases of ups and downs, but to handle the phase with great perseverance is the quality of a great player. It doesn't matter whether you are doing great or not because a player can't perform tremendously or carry on their form every time.
An experienced and professional coach understands these things because they have already seen these phases. So, they will guide your child better and try to teach them the skills of how to be perseverant.
12) Leadership
"Leaders are born," everyone knows this cliché, but at the same time, you have seen some great examples where some players like Pele and Ronaldo transform their leadership quality.
So, the right coach will help your child a great leader with proper guidance.
13) Observation
Every player has its strengths and weaknesses in the game. Some players are naturally good defensive players, or some are attacking players, and last but not least, some have the quality of being a great leader. A coach is a reasonable observer. They have already seen some of the toughest situations and times in the game. So, they are good learners and observant. That is why they always figure it out, which has the great traits of playing and who are struggling.
Conclusion
In any sport, if you want to get great success and fame, then you need to have the fabulous inspiration of guidance behind you. So, these were benefits or ways through which a professional coach can improve your child's game and make them a great player.
Download athlete connect app and find a football coaching near me easily.