You are a parent, and your kid has a dream to become a professional football player. So sometimes automatically it becomes a dream of yours as well, and it is usual. But if your little player has decided to move ahead in his career, then it is the time to upgrade his preparation.
Yes, it is the time to bring a coach for him who could better guide him and can horse out your child's performance. Although, handing your child over his coach can help him to strengthen his performance.
Since a coach spends quality of time upon your child continuously for a week, simultaneously, it would boost his football game level. But it is entirely up to you what type of football coach you find out for your child. Through this article, we'll guide you on how to find the best football coach for your child?
Before moving on to the qualities that private quarterback coaches must have, let us aware you that now it has become easy finding a personal football training near me for your child. For this, you only need to download athlete connect app and find the right trainer for your child's football training.
What Qualities Should a Football Coach Have?
It has been seen that among the college football players, only a few percents of them are coming up as the best football players. Although, it is not their fault. At some points, parents ignore crucial things that later affect their child's football performance.
Since not every parent is capable of providing skilled football training to their child, therefore they search for the best coach. But it is essential that a good coach should be enthusiastic, positive, supportive, focused, trusting, goal-oriented, observant, knowledgeable, a clear communicator, respectful, and should have patience.
Manchester United legend Alex Ferguson says, "a good coach should have Perseverance, good Communication, Imagination that motivates practitioners and Observation qualities."
You must assess all these qualities in a good coach. Otherwise, you are just only providing usual football training for kids that only help to play a game and surely not going to help him in becoming a pro-football player.
Finding a coach will become comfortable with the below vital aspects.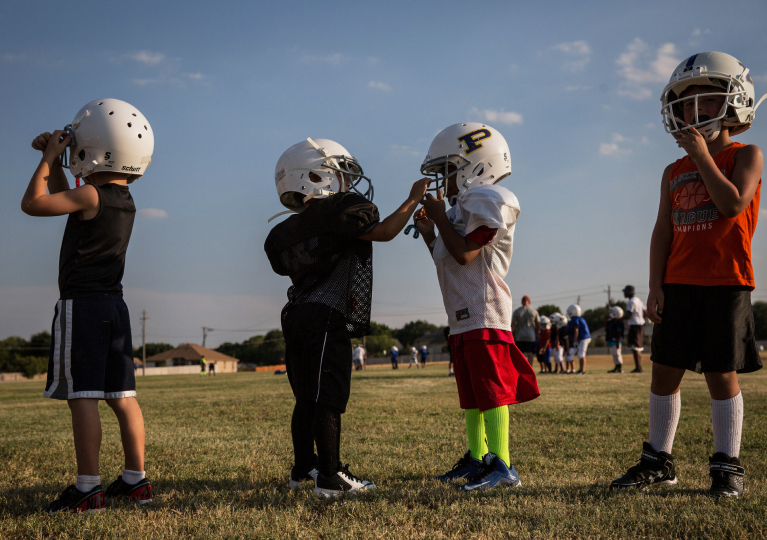 1. Study a Player & Pinpointing his Faults
Remember one thing if a coach is only praising about your child's performance and isn't describing his weak points, then the coach will not be giving any concentration upon your child. Because only a genuine coach will look after the performance of their students. He knows the drawback of their football students, so he practices to eliminate those faults.
Only if a child learns his shortcomings and tries to come out from them, then his drawback later turns into their strength that helps them to become a pro-level American football player. So, you can hand your child over for training to that coach, and if your child is learning new things that is upgrading his performance, then it is that coach you were looking for.
Whereas an experienced coach can quickly track your child's performance to see what he or she is not doing. This is an important point that can help you examine the coach.
He answers you immediately after figuring out your child's performance. Also, if the coach tells you a lot of interesting and unknown things regarding football game and new football training skills coming in this game, then there is no doubt that he is a great coach.
2. Secure Environment
The second most important thing is that if you are sending your child to coach for football training, have a look at the surrounding environment, which can help you find out how your child's coach is providing training to his students.
Assessing the environment can assure you if you are sending your child for the best football training. Because in most of the football training facilities nearby, lack of discipline affects student's behavior. So be sure so that your child feels comfortable during his football training and only focuses on his game.
3. Time Management
During their football training program, most of the coaches delay the practices because of a lack of time. So you can also take a look at the time management of the coaching center.
For instance, is your child's coach time disciplined? How does he manage the player's training in his absence? Does he also provide training according to shifts? Are they also giving a break to students for their recovery after long exercise? Or can he alter his training time for your child?
So overall, management plays its crucial role, and proper management also makes things easier for you so you can assume the football training of your child.
4. Game Execution & Good Command
An experienced coach knows precisely how to manage the game either during practice or what to guide about football positions while competitions. Like sorts of exercise or warm-up, they provide in the beginning, mid-game, and at the end.
Also, the coach should spontaneously know the best time a player should interchange positions in football or switch up the systems of the play to understand when it's gone or when to ride the momentum.
A coach brilliantly knows when to motivate a player or when to ask the players to calm down. So that players could also boost their game level and perform their best. For this, it is essential that players are listening to their coach. Hence, great commanding skill is also a necessary quality that a good coach should have.
5. Motivation is a Miracle: See Coach isn't Partial
Motivation plays a significant role when it comes to encouraging someone to give their best. For this, you can also ask your child if his coach is providing him better training or not. See if your child isn't being ignored by your coach, or he's only focusing on his other students.
Whereas, sometimes coach never motivates player, resulting in players start to lose their interest in their game. It is a scientific fact that Motivation is a powerful feeling that drives strength and keeps pushing us to approach a precise aim through our actions.
Without Motivation, when you do work, you fail to do it with full efficiency and dedication. Besides, Motivation helps to amplify work efficiency and exclude the best of a person's true potential. So it can work as a "Charisma" for your little player.
Final thoughts
The role of a coach can be a reason behind your child's success as he provides those essential football training tips that no one can provide them better. Whether if they provide academic or private training, after hiring a football coach in the first practices, you can analyze a significant change in your child's performance.
For instance, you can only call a coach a brilliant coach if after handing over your child to them, you feel carefree towards the training of your child. If you are entirely satisfied with their football training, then no doubt, you are sending your child to the best coach for his personal football training.
Thus no doubt he's the only one who can understand your child's performance. Therefore, in the rest of the things, it becomes your duty never to disturb their training.
Someone said it right "A coach will impact more young people in a year than the average person does in a lifetime."
Therefore, it is now up to you how you become proficient at finding a perfect youth football training facility near me for your child.